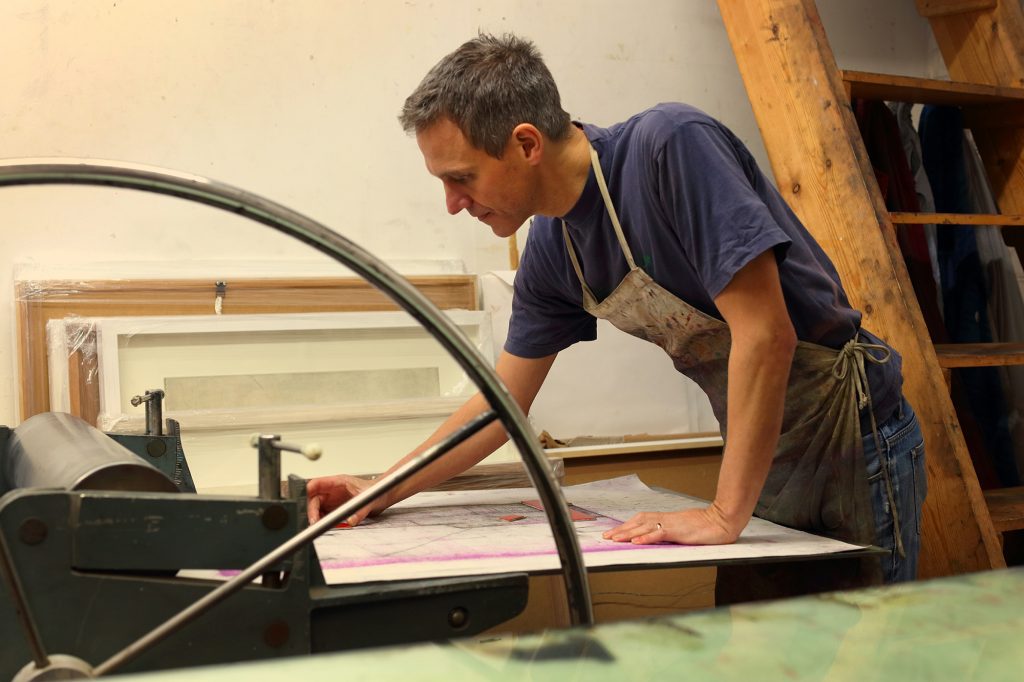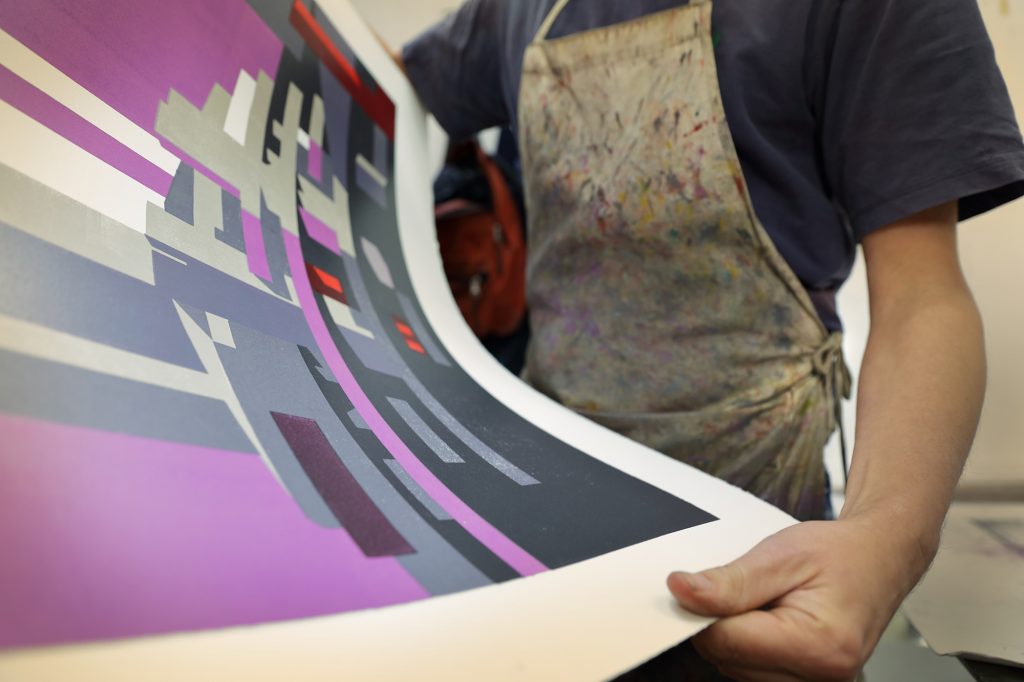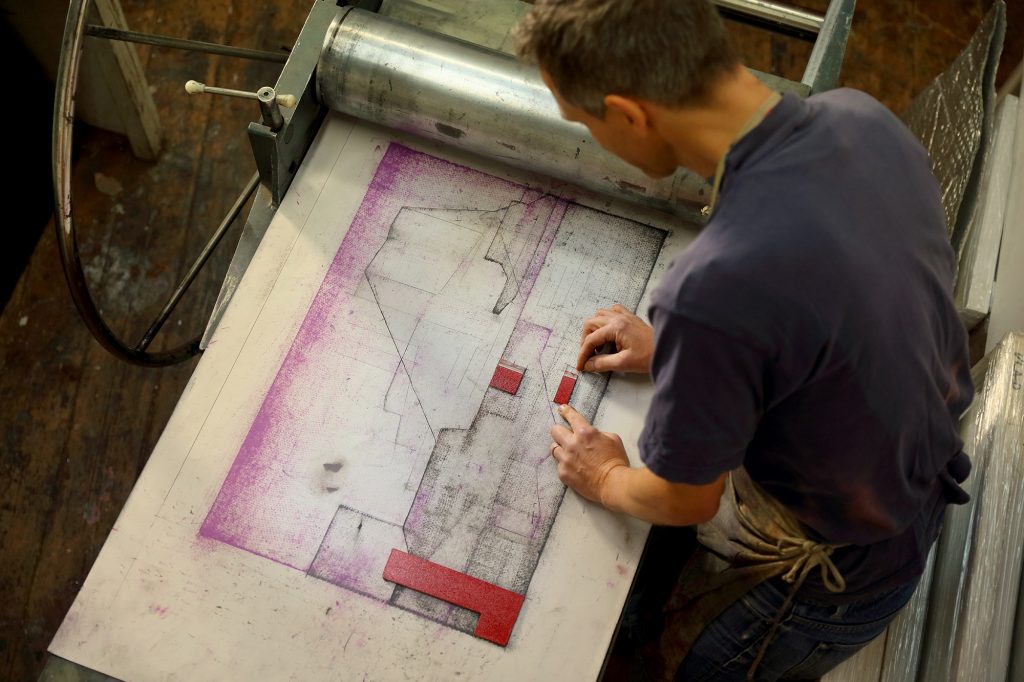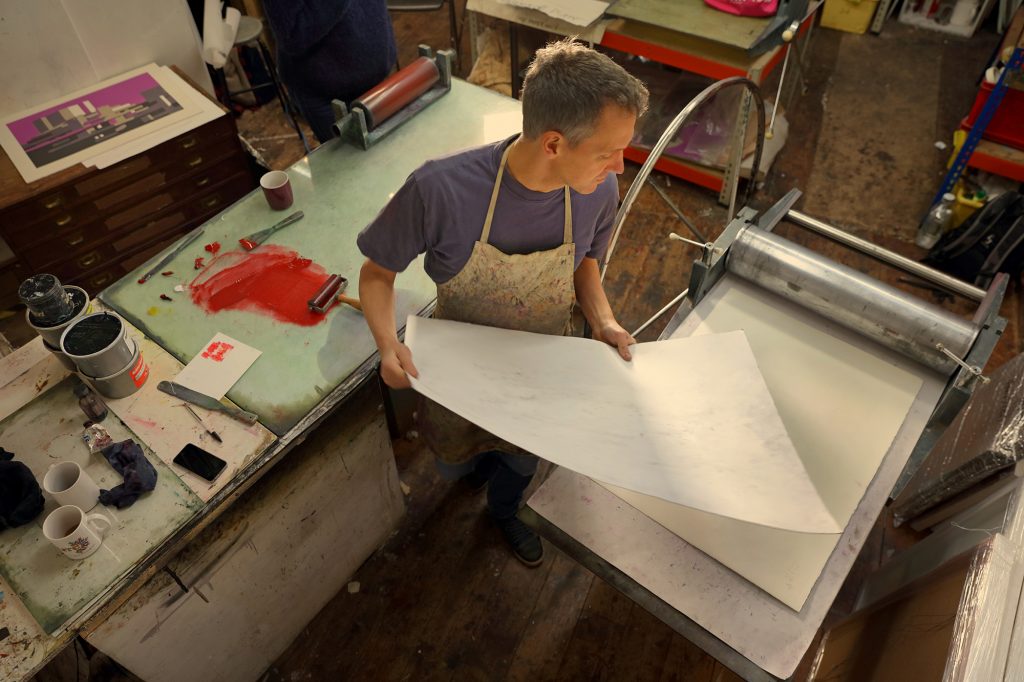 Paul Catherall's bold linocuts of architectural landmarks are instantly recognisable. Whether on Tube posters, book covers, greetings cards or gallery walls, you will no doubt have come across his immaculately clean, sharp prints with their striking colour palette and graphic edge before now.
Based in London, but raised in Coventry, Paul retains a huge love for the concrete icons of Brutalism and Modernism that framed his childhood. The subjects of his prints have included controversial buildings such as the Elephant and Castle Shopping Centre, the National Theatre and Telecom Tower, as well as celebrated landmarks including Battersea Power Station, Tate Modern and St Paul's Cathedral.
One of Transport for London's most prolific poster artists of recent years, Paul studied Illustration at Leicester Polytechnic and began his career as a working illustrator, creating figurative acrylic paintings for clients ranging from Marston's Brewery to the Sunday Times, Daily Telegraph and Harper Collins.
He came to printmaking in 1998, drawn to the hand-crafted, step-by-step process of linocutting since he first encountered it at college and inspired to create a series of London images to mark how the city was changing as the Millennium approached. "The Millennium Dome was being built, Bankside was converted to Tate Modern… I wanted to capture that moment," he recalls.
Following a series of hugely successful London solo shows, Paul's work was spotted by Transport for London's poster art commissioner Michael Walton, who remembers being "electrified" by a flyer for one of those exhibitions.
He says: "The rest is history. Transport for London has commissioned and displayed many works by Paul and his first for us, Tate Modern, is a reminder of his huge talent, which, enhanced by time, has developed into what I consider to be the foremost linocut artist at work today.
"Paul's work resonates with anyone with a love of architecture, and his own passions translate with a simplicity of form that belies the immense work that each piece requires. In many ways Paul is the master of 'less is more'."
Drawing on the best traditions of classic midcentury poster design Paul utilises his expert eye for composition and colour to inject his prints with fresh energy, dragging old icons kicking and screaming into the 21st century and imbuing new buildings with a nostalgic edge.
He cites the likes of Tom Purvis, Frank Newbould and Tom Eckersley as inspirations – all commercial artists working from the 1930s to the 1970s – along with the Vorticist woodcuts of Edward Wadsworth and the more recent screenprints of American illustrator Michael Schwab.
High profile commissions include the Southbank Centre, Royal Shakespeare Company, Pallant House Gallery and British Airways. And as his illustrations for clients including Penguin, Hodder & Stoughton and London Elects show, his linocut skills are equally masterful when turning to pastoral landscapes and figurative works.
In 2012 he was one of six printmakers to be commissioned by the House of Commons Works of Art Committee to create a print of Portcullis House to mark the Queen's Diamond Jubilee.
Paul has exhibited at numerous solo and group exhibitions, in London, China and New York, and his work is held by a number of specialist printmaking galleries including Eames Fine Art, St Jude's Prints and Emma Mason. He was elected to the Royal Society of Painter-Printmakers in 2012 and became a Fellow (an 'RE') in June 2017.